Receive the Initiations of the Pleiades on the sacred land of Avalon – spiritual Retreat in Glastonbury,UK
spiritual Retreat 10. – 16. April 2023 in Glastonbury, UK
The Q'eros, the indigenous people from the Peruvian highlands of the Andes, believe that we come from the stars, including the sibling stars of the "Pleiades". The stars are our holy sisters. When we bring our soul light to shine, we will be a star on earth that brings change, simply by our presence. The Pleiades play an important role in the cosmology of the Incas and Qeros. This sibling star brings the power of light to us and to Mother Earth; "Pachamama". Through the connection with these stars we feel more at home in ourselves again. The Pleiades initiation helps us to let go of deep-seated fears and to rediscover buried potential for us. This initiation strengthens our destiny in this world and gives us the strength and grounding to live it. With these wonderful rites we bring the light back into our soul.
The Pleiades:
Asterope 1 & 2 (Puriq Qoto)
This star strengthens the trust in our inner guidance. It strengthens our deep rootedness with Mother Earth and we go "through" our life powerfully and grounded.
Taygete (Tarpuq Qoto)
This star awakens our "deeply hidden and buried" abilities, the treasure that is still invisible and it sets the strong light impulse that we can live these potentials in this life.
Maja (Nawi Qoto)
This star is connected to our solar plexus and awakens and connects us to our inner star. Our soul light shines and all energetic "holes" can close in our energy system. We realize who we really are without being "guided" by guilt and fear.
Celaeno (Munay Qoto)
This star brings pure light and Munay (unconditional love) into our heart. This helps us to release our blockades which close our heart.
Electra (Llank 'aq Qoto)
This star lets us "electrify". It's the clarity to see things through and see without judging. We become clearer and more truthful in expressing our truth on all levels.
Mereope (Yllariy Qoto)
This star gives us the strength to strive for new beginnings in our lives. This starlight connects us with "soul parts" that we have lost and opens the "doors" in us to integrate these parts and aspects back into ourselves. With this we release energies that help us to live our destiny and to complete our task in this life.
Alcyone (K'anchaq Qoto)
This star illuminates our meridians. It brings inner peace, more clarity and connects us deeper with our soul.
The Initiations of the Pleiades – Qoto Kuna Karpay
The Qèros, the original inhabitant from the high plateau of the Andes, believe that we are children of the stars and especially descendants from the Pleiades. The Stars are our beloved and sacred Sisters and Brothers. When we lighten up our Soullight, we become a star walking on earth. We will bring change allready through our presence. The Pleiades are playing a very important role in the cosmology of the Incas and Qèros. This luminary Star Constellation brings Strength and Power of Light to us and to Pachamama; Mother Earth. Through this energetic Transmission and Starconnection, we can feel much more home and secure in us. The Pleiades-Initiations are helping us to release deep-rooted fears and recover and discover buried or blocked Potentials for us. It strengthen our purpose in this world and gives us Strength and grounding to live these Potentials in this life. With these wonderful initiations we bring back the pure Light (Kánchay) in to our soul.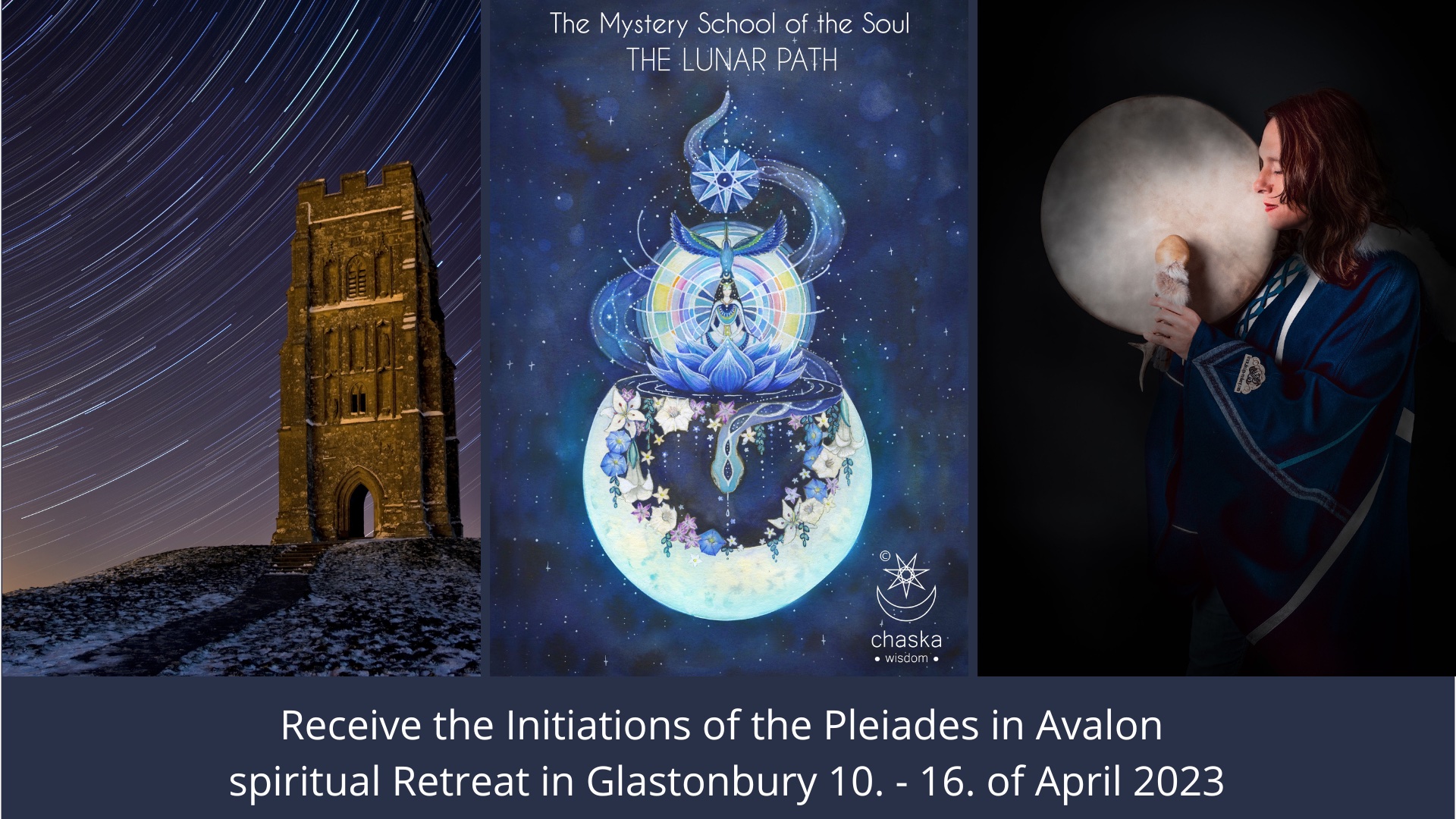 We will visit the following Sacred Sites:
* The White Spring
* The Tor
* Chalice Well
* Lady´s Chapel
* St. Margret´s Chapel
* Stonehenge
* Avebury
We will have a wonderful Voice Activation at St. Margrete´s Chapel with the international known Singer and Song Writer Nalini Blossom.
These Initiations will awaken your Star
Seed
and the remembrance of who you are. We are all coming from the Stars and if we can bring this Starlight into our Soul, we can radiate this light into the world. These Initiations are nourishing your Soul.
special Price for women from Glastonbury!!!
Cost:
special Price for women from Glastonbury
333 Pounds for the Initiations of the Pleiades
Cost:
444 Pounds for women from Glastonbury if you wish to participate also in the Sacred Site Tours & Activations
Not included:
Food
Accommodation
Travel Cost & Transportation
Entrance to Sacred Sites
Feedback:
Dear Annette, I want to thank you from the bottom of my heart for the indescribable workshop of the Pleiades initiations. I have already gone through many initiations, these are among the most intense for me and they have touched me in the depth of my soul. The beauty is that the process is still going on inside. I feel myself in a process that connects and centers me even more strongly with my body and at the same time seems to widen my outer limitations. And when I call the star brothers and sisters, I still feel their energies, just as I perceived them during the initiations.
Simply THANK YOU – Urpichay Sonqoy – Angelika
I would like to thank Annette from the bottom of my heart for the workshop of the Pleiades initiations, which touched me very much. She is really able to draw the true path for seekers, because in her rituals the essence is transported, which is independent of what shamanic culture they come from. It hits the core and allows deep experience, brings me into my light, into my balance.
Kanepono Werner